Yugawara Onsen (Yugawara Hot Spring)
The Origin of Yugawara Onsen (Yugawara Hot Spring)
During the period of the Hakone volcano's caldera (400,000 to 230,000 years ago), it is believed that the Yugawara volcano, which is about 1,000 meters above sea level, was formed. The area around the crater greatly eroded and a river began to flow through the valley created in the eroded caldera. As erosion further progressed, high-quality hot springs appeared around the vicinity of the river. This is the origin of the Yugawara Onsen.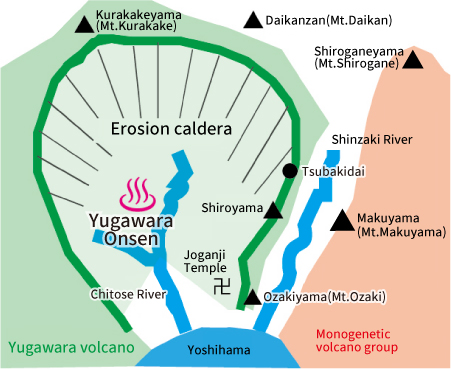 Topographical concept map of Yugawara
In the "Manyoshu" edited in the latter half of the Nara Period, the only eastern Japan hot spring that is mentioned is the Yugawara Onsen which tells how ancient its history is.
「足柄の 土肥の河内に 出づる湯の 世にもたよらに 子ろが言はなくに」(Manyoshu Volume 14, Somon)
Ranking Three Roles of Hot Springs in Edo
In 1672 (Kanbun 12), the area where hot springs were flowing became Miyagami Village, and the place name "Yugakawara" appeared in the village statement book for the first time. After this, it came to be called Yugawara Onsen.
Additionally, in the latter half of the Edo period, the hot spring ranking "Shokoku Onsen konokyo (Japan's Hot Spring Efficacy Ranking" was created by dividing the nationwide hot spring areas into east and west, and Yugawara Onsen was ranked as the best 3 in hot springs three roles (Komusubi) for onsen areas in the east.

Yugawara Onsen ranked as Komusubi in the Onsen Rankings of "Shokoku Onsen konokyo (Japan's Hot Spring Efficacy Ranking)"
Highly Honored Famous Hot Spring
Yugawara Onsen, known as the "Hot Spring for Wounds" was designated as a medical treatment facility for wounded and sick soldiers during the Sino-Japanese War and the Russo-Japanese War, and the reputation of the famous hot spring spread throughout the nation. Additionally, many literary artists including Doppo Kunikida and Soseki Natsume visited it, and Yugawara Onsen was featured in many literary works.
Yugawara Onsen is characteristically colorless, clear, and odorless, and feels smooth to the skin, but hot springs typically contain sodium and calcium chlorides and hydrochloride gypsum components and have the effect of retaining heat and enhancing the formation of new skin. This medicinal bath effect has raised the reputation of the famous hot springs of Yugawara Onsen.