A Mountain of Views and Legends Mt.Kintoki
Mount Kintoki is a basalt composite volcano that was active 350,000 to 270,000 years ago, and one of the mountains encompassing the outer side of a caldera (somma).
If you look at the illustration ①, you can see that there are big differences in the shape of the mountain now from what it was before the caldera formed. This is due to the collapse of the south side at the time the caldera formed, and it is thought that the vent in the center of the volcano was in the south side that gave way. Also, the mountain has continued to erode since the caldera formed and has become the shape it is today. Due to the collapse and erosion, rocky outcrops exposing cross sections of the composite volcano exist in various places. By all means, please try to observe these.
Further, the view from the summit is spectacular, as you can see the topography of the caldera, the younger central cone, Mount Fuji, and other sights, and there is a route to descend the mountain that goes to the Minamiashigara area place of geological interest, Yuhi-no-taki Falls.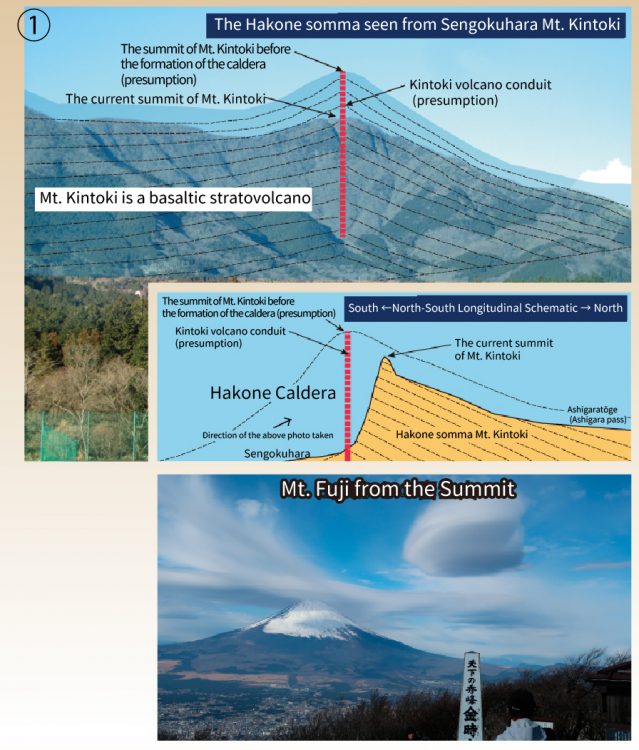 Fuji black soil layer discovered on Prefectural Road 731 (Yagurasawa Sengokuhara)

The Fuji black soil layer formation widely distributed around Mt. Fuji, is an organic clay layer formed about 8000 to 5600 years ago. This stratum compared to the upper and lower strata has less ejecta from Mt. Fuji and is thought to indicate the existence of a period when the explosive eruptive activity of Mt. Fuji lessened.

Since the Edo Period, Mt. Kintoki has been associated with the legend of Kintaro and legends of Kintaro are still told in various parts of the Ashigara area. In the mountains, there are huge volcanic stones such as the "Yadoriishi (lodging stone)", where Kintaro supposedly lived with Yama-uba (mountain woman), and "Temariishi (hand ball stone)" and "Keotoshiishi (kick down stones)" which tell the story of Kintaro's superhuman strength.

Plants that can be seen on Mt. Kintoki