Hakone Sekisho (Checkpoint)and Stone-paved Road

Hakone Sekisho offers views of Lake Ashinoko, Mt. Hakone's outer rim, and Mt. Fuji. Mt. Hakone is an active volcano, and its periphery is the outer rim of its crater. Inside the crater rim is a type of terrain called a caldera, with various
peaks of the central volcanic cone. From here one can see Lake Ashinoko in the foreground and Mt. Byobuyama (one of the peaks within the central volcanic cone) in the backgroun d, and these features constrained travellers to the narrow area between the lake and mountain. In the past, this terrain was an excellent place to monitor travelers at a checkpoint on the Old Tokaido Highway connecting Edo with Kyoto. The formation of this terrain was influenced by activity along the Hakonemachi Fault, which runs along the southeast shore of Lake Ashinoko, where the checkpoint was located. The steep western slope of Mt. Byobuyama, which was formed about 80,000 years ago by volcanic activity, is thought to have resulted from movement on the Hakonemachi Fault.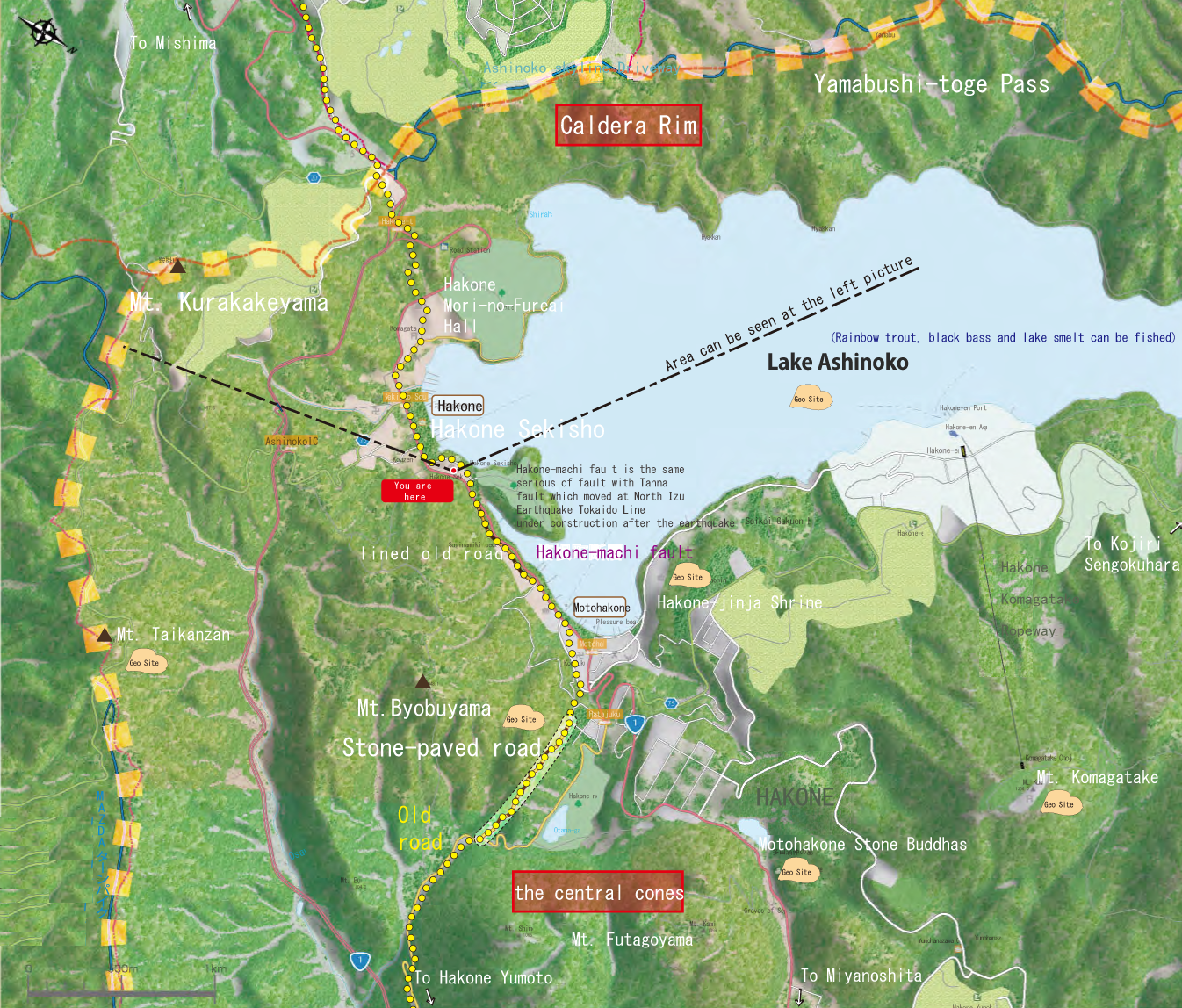 There are a lot of historical sites around Hakone Sekisho.  Hakone-jinja Shrine, Stone-paved Road, Suginamiki (Cedar tree-lined), Motohakone Stone Buddhas make us feel swinging time from the long time ago to the current time.

Suginamiki (Ceder tree-lined)

Old road and Stone paved road

※Hakone Sekisho is designated by country as historical site inside national park.   Take good care of valuable nature and cultural heritage.