"Hayakawa Mudflow Deposits" that Created the Jakotsu-keikoku Valley and River Erosion
The Jakotsu-keikoku valley is a steep valley created by the erosion of the Hayakawa River and its tributary, the Jakotsu River, on the "Hayakawa Mudflow Deposits" that were deposited approximately 40,000 years ago. The Hayakawa mudflow deposits are thought to be the rocks and debris carried along with the water and deposited that made up a mountain body, due to the collapse of part of a former small stratovolcano (presumably Sakikamiyama) in the current central crater hills. The riverbed of the Hayakawa River at that time, which was buried by the Hayakawa mudflow deposits, was subsequently terraced due to the rapid downcutting of the river. The terraces created by the Hayakawa mudflow deposits and the deposits are distributed from Miyanoshita to Ohiradai and Hakone Yumoto, and from the flat surface, the Hayakawa River with its deep valley floor can be viewed.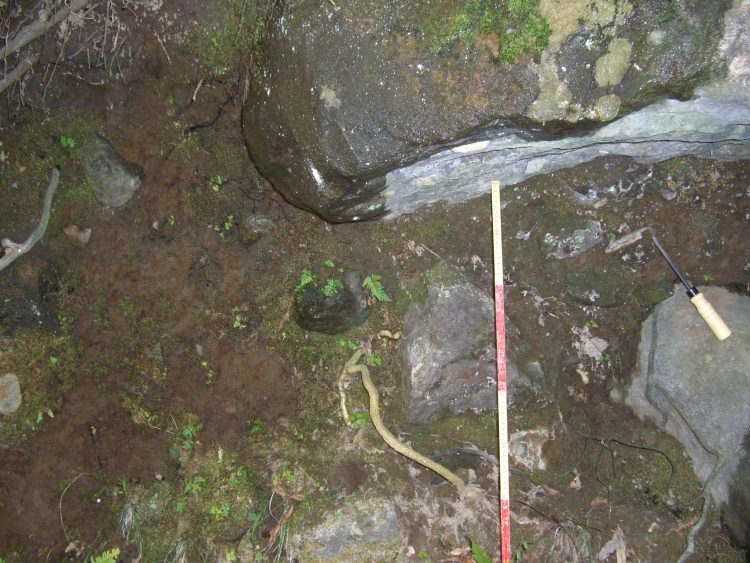 Hayakawa mudflow deposits that can been seen along Hayakawa in Yumoto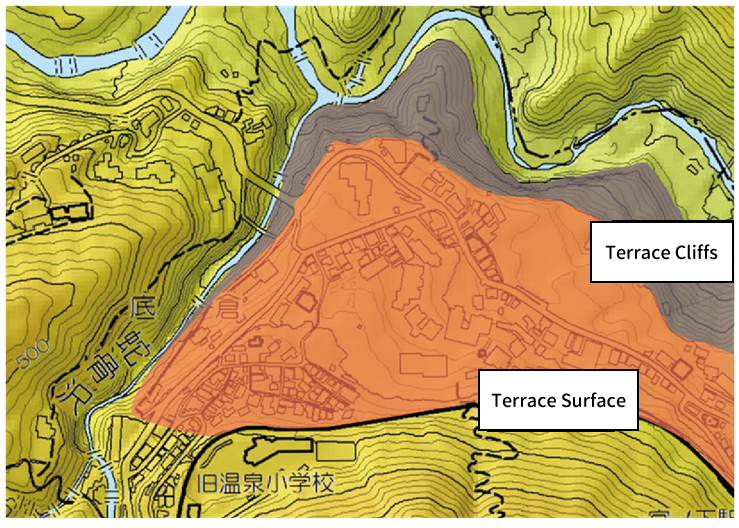 The buildings are lined up on the terraced surface (orange) and the terraced cliffs (gray) are a steep slope, creating a deep valley.
River Terraces Used by Miyanoshita<br />

Situated on the terraces, Miyanoshita is valuable flat land in the Jakotsu-keikoku valley with many steep cliffs, and many buildings are lined up along them. Since the Edo period, hot springs enthusiasts have been visiting here as one of the seven hot springs in Hakone, but in the Meiji era, Western-style buildings such as the Fujiya Hotel were constructed, and it became a popular resort area for foreigners. Additionally, Mr. Sennosuke Yamaguchi of Fujiya Hotel drew water from the Jakotsu river behind the main building of the Fujiya Hotel and set up a hydroelectric power plant in 1893 to use it for lighting inside the hotel. Later in 1904, he acquired the water rights for the Hayakawa River and built a new hydroelectric power plant along Hayakawa River. The Miyanoshita Hydroelectric Joint Stock Company was established and started business in 1906. Electricity was supplied to the surrounding villages from this power plant.


Entire view of the Miyanoshita Hydroelectric Joint Stock Company Power Plant

Provided by Fujiya Hotel